Advertiser Disclosure: noworkalltravel.com earns an affiliate commission for anyone making a purchase through some links available on this website. This compensation may impact how and where links appear on this site. For more information, please visit the Advertising and Privacy Policy page.
COVID-19 pandemic measures aren't doing Tokyo Narita's Japan Airlines Sakura Lounge any favors.
My visit in mid-December was ho-hum at best, with a big part of that verdict stemming from the abridged meal options.
However, before we can chat about that, we first must find the lounge. As the only Sakura Lounge currently operating at Tokyo Narita, it is located in the main building — as opposed to the satellite building where gates higher than 80 can be found– very close to the main security checkpoint.
So that you don't mistakenly walk by it as I did, the lounge shares a rather nondescript entrance with the Japan Airlines First Class Lounge:
If you're an Emerald or Sapphire member of the OneWorld airline alliance, and traveling on any OneWorld flight out of Tokyo Narita — sorry, folks on the upcoming WestJet Calgary route — come on in. Japan Airlines frequent flier program members and passengers also have a range of ways to enter the Sakura Lounge; heck, if you're traveling on a flexible Y (economy class) fare, and not going to Guam or South Korea, you might be able to partake.
After showing my boarding pass and frequent flier details to lounge reception, I took the escalator downstairs, where most of the seating was located.
A lot of seating.
Given that Tokyo Narita is busiest between 10:00 and 12:00, then again from 18:00 to 20:00 (6pm to 8pm), I just missed the morning rush.
On that note, I've read countless reviews of lounges, flights, tourist attractions, and hotel pools that mention how crowded they might be. Easiest solution to that? Take yourself out of the equation. Or, as armchair CEOs, the less acquiescent solution might be to think about how to limit access to some passengers, perhaps even your own access. But we wouldn't want that, right?
Back to the lounge amenities, there were ample places to charge devices. Not to mention, there were luggage storage lockers, and narrow booths from where people could place calls. Next to one of the phone "booths" was a children's play area.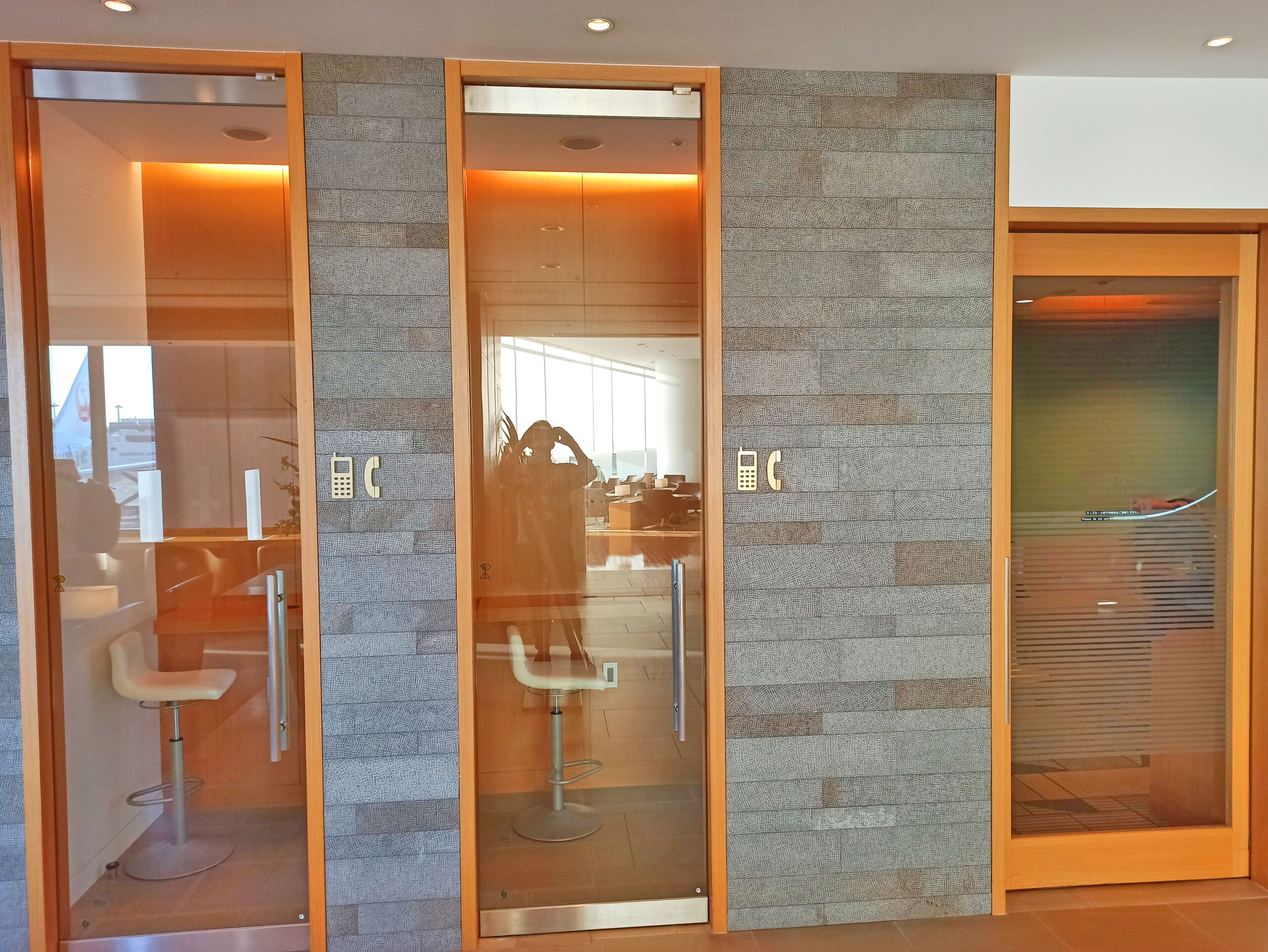 I took a seat in the furthest depths of one half of the lower level, where a tumbleweed would not have been out of place. All settled in, it was time for a drink.
Some snacks, Japanese, and Western beer and liquors were available, although the selection wasn't too great. At least they had that famous pour-your-own-pint beer machine, something for all you hops fans.
Still, I was peckish, ready to gobble up chafing tray after chafing tray of braised fish, miso soup, and beef curry.
I was partially onto something.
I ascended the glass staircase up to the Japan Airlines Sakura Lounge, Tokyo Narita The Dining, the not-so-subtle name of the Sakura Lounge's eating area, and was disappointed from the get-go.
What's this about, a sign informing patrons that they can't bring their food downstairs? It could have been a staffing issue, but it was disappointing nonetheless. I like the distraction of eating while I'm tapping away at the keyboard in my oversized chair.
Not only that, but there were no self-service dining areas. Just a queue of people getting prepared for some stingy portions of varying taste and temperature. In other words, feel free to spill your drink all over your gear, but damned be the person who gets Japanese curry on anything.
As someone who makes food a priority in his travels, I nevertheless went for the Japanese breakfast option, the "American" breakfast option, and a croissant for good measure. Maybe it was a good thing, but I felt that a number of dishes lacked salt. Of course, my beloved miso soup more than made up for the skimpy umami flavors in everything else.
Language note: according to the menu, the American option included something called 凸凹野菜スープ, or dekoboko yasai suupu; that translates as unequal vegetable soup. I asked about the bizarre name, and found out that it contains broccoli stems, milk, and chicken bullion; it wasn't bad.
All in all, my time at the Japan Airlines Sakura Lounge at Tokyo Narita was lackluster. Sure, I easily got a seat, and yes, it was relatively quiet (at least by my seat). But the upstairs felt dialed-in, squeezed-in, and in terms of food, insipid. I guess that's why liquor is available so early in the morning.
Particularly as a solo traveler, I did like that there was a place to store luggage.  At one point, I got up to look for some last-minute souvenirs around the terminal, without a care in the world about minding over my bags. Beyond that, and a quick drink or two, this lounge gets a solid meh. I believe the food section will improve as certain governments and businesses change their stances on the COVID-19 pandemic.
---
Have you been to the main Japan Airlines Sakura Lounge in Tokyo Narita? What were your impressions?