In this week's Wednesday Who of aviation history, we'll be learning about the name behind Jacqueline Cochran Regional Airport in Coachella Valley, California.
Born on 11 May, 1906 in Muscogee, Florida, Bessie Lee Pittman grew up in poverty, and with very little in the way of schooling. At eight years old, her family moved to Georgia, at which point she had her first job, working in a cotton mill.
Demonstrating a strong work ethic, she was then hired by family friends to work in their beauty salon. Pittman learned the ins-and-outs of the trade, to the point that in 1935, she started Jacqueline Cochran Cosmetics; eventually, she sold the successful enterprise in 1963.
At 14, she married Robert Cochran, and even had a child with him months later. Although Bessie and Robert divorced six years later — and tragically, their child died at around four years old — she continued with her work at the beauty salon. She would constantly think about her appearance; since she was involved in the cosmetics industry, it was important to be able to sell her products by showing off their capabilities using herself as the guinea pig.
In 1931, she left the South for New York City, where she started to spin yarns about her childhood; this is also when she began to call herself Jacqueline. She was in the Big Apple, with a cosmetics background, so she thought that a new persona would lift her spirits and help her find new opportunities.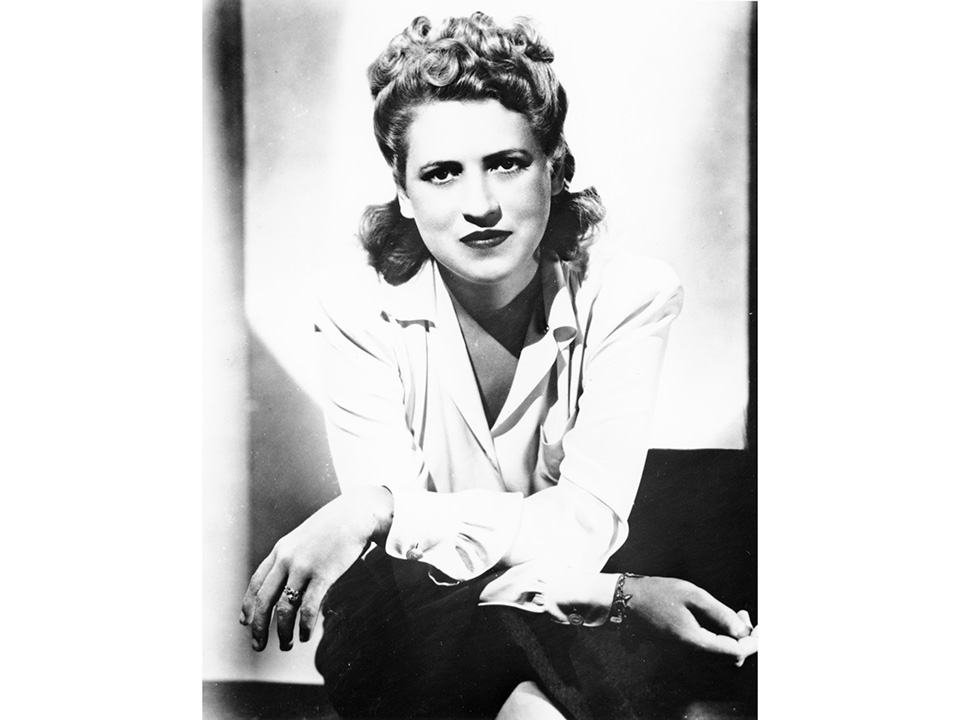 Having gotten a job at Saks Fifth Avenue working in their chic salons, Jacqueline was able to work at their winter outlets in Miami. It was back in Florida where she met her second husband, the venture capitalist Floyd Odlum.
It was Odlum who suggested to Jacqueline the idea about flying around the country to increase her cosmetics sales. He wagered that if she could get her pilot's license within six weeks, he'd pay for the flight school.
Needless to say, she earned license #1498 in three weeks (with the average at the time being three months).
All through the 1930s, Cochran competed in flying races, even winning the Bendix Trophy (all about speed and endurance) in 1938 , and the Harmon Trophy (excellence in aviation) twice. Not to mention, using the slogan "Wings to Beauty," she also flew through the United States, selling her cosmetics.
At the outbreak of World War II, seeing that the United States still didn't have a place for women aviators in wartime settings, she briefly joined the British Air Transport Auxiliary, transporting aircraft (as opposed to fighting combat missions, or serving as air ambulances). Cochran had been heavily campaigning to Eleanor Roosevelt and other leaders to get women more involved in the war effort; only in mid-1942, almost three years after the start of the war, did she get her wish. The Women's Flying Training Detachment (WFTD) trained thousands of women to be pilots; this merged with the group of a fellow aviator — Nancy Love — to become the Women Airforce Service Pilots (WASP) on 5 July, 1943.
However, as the war was coming to a close, the death knell tolled for her group; WASP was disbanded in 20 December 1994, and Cochran became the first woman to receive the Distinguished Service Medal, in 1945.
Following a short stint with Liberty magazine as a news correspondent, Cochran still had a flying  career left. To start with, in 1948, women were permanently allowed to participate in the U.S. armed forces; she was made lieutenant colonel in the Air Force Reserve that same year (although women were really only able to start flying with the Air Force in 1976).
On 18 May 1953, under the auspices of Chuck Yeager, the first person to break the sound barrier six years earlier, Cochran became the first woman to break the sound barrier, flying in an F-86 Sabre; more records would be set the following week. In 1961, in a T-38 Talon, she became the first woman to pass Mach 1 (~761.21 mph), even briefly reaching Mach 2 (~1522.41 mph).
Though her health kept her out of airplanes from 1967 onward, she got a helicopter pilot's license at 61 years old.
From 1959-1963, she was the first female president of the aviation sporting events group, the International Aviation Federation, and also consulted with the National Aeronautics and Space Administration. The International Aerospace Hall of Fame and the U.S. Aviation Hall of Fame inducted her in 1965 and 1971, respectively.
Jacqueline Cochran died on 9 August, 1980 in Indio, California, with an unusual legacy. She was record-setter, entrepreneur, and addicted to being in the sky, yet told bizarre stories about her young past. She wasn't even an advocate for women to become commercial pilots, thinking that they were much more likely to quit and start a family. Though, with gender segregation and pay gaps very much in place even now, it makes you wonder how she'd feel in this zeitgeist.