I've finally found a lounge as miserable as the Priority Pass one in Chicago O'Hare's Terminal 5. And it's the Nagoya Centrair Airline Lounge (click to skip ahead)… in Japan?
First, a smidgen of background about today's Nagoya aviation.
After another recent trip to the country, this time was a little different in that I was setting off back to the U.S. from Nagoya. Given that the city is well-connected by shinkansen (bullet train) to Tokyo and Osaka, being located between the two, it's also often overlooked by tourists.
Nagoya, like Tokyo (ok, Tokyo has a lot of airports, but the busiest two are certainly Haneda and Narita) and Osaka, has two prominent airports– Komaki (NKM), the older one, closer to downtown, and Chubu Centrair (NGO), the newer one with its own artificial island, way south of the city.
Most likely, if you're flying into/out of Nagoya, you will be using NGO.
As is often the case in a major Japanese airport, there's a big shopping/dining area landside, that is, before security. There's not too much airside (after security) if you're on a domestic flight, so you may want to inspect this landside part first.
Nagoya Centrair Airline Lounge
Complete rubbish.
O.K., here's more of a review.
Pass through domestic security, and the lounge will be on the 3rd floor (the same as security). It's open from 6 in the morning until the last departure of the day.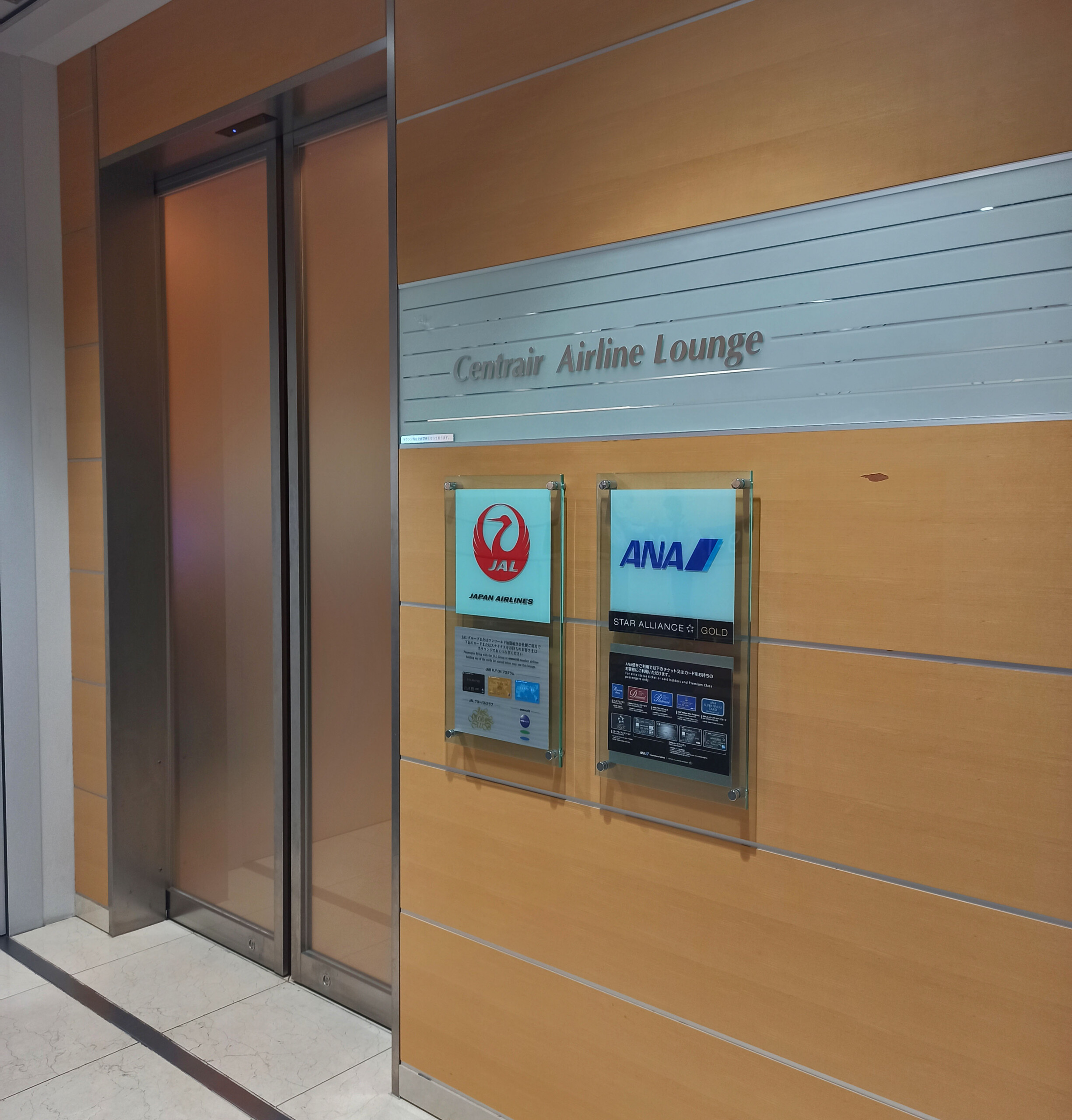 With my AA Sapphire status, I was able to enter the Centrair Airline lounge, but it might as well have been a restroom with a drink machine.
Yeah, something like that.
That's the extent of the consumables available within the lounge. Tea, juice, water, and beer.
Very much a brick-in-the-wall setting. Nothing about the lounge would make you want to linger there, and maybe that's the point?
Thing is, for a Japanese domestic flight, you don't have to show up too early, and you can take drinks through security (I tested it out; as long as my bottle of tea was separate from the rest of the carry-ons, there were no issues).
Unless there were delays, people weren't staying very long at this lounge … not that most Japanese lounges are particularly fetching.
By the way, that's it for that lounge. No other area for seating, nor for drinks. What you saw above is what you may not want to see in-person.
Bonus
I was flying to Tokyo Haneda, and happened to be placed in a premium economy seat aboard a Japan Airlines Boeing 777-300(ER). None of the IFE (in-flight entertainment) was working "due to" the short flight length, but you still may want to see a couple of photos of the seat:
---
Come to think of it, I've been quite disappointed with Japanese lounges. Even the ANA First Class Lounge at Tokyo Narita was meh, unless you're a boozehound.
There's gotta be a decent lounge out there somewhere ….