Before March 2023, the last time I had visited the iGA Lounge at Istanbul International Airport was September 2021.
That was a time when …
… when ghostbusting was back in vogue, and
when you couldn't shoot pool because the stripes weren't vaccinated.
March 2023's visit showed that much had changed vis-a-vis COVID-19.
Entrance
After passport control, make a left.
Head up the escalators, and the lounge will be on your right.
However, I was in transit for this particular trip, so I just looked for the duty free shops (signage in the central shopping area isn't terribly good).
I checked-in using the Priority Pass card, and then scanned the boarding pass at the electronic lounge gate.
Lounge Layout
Right after entering the lounge, luggage storage lockers will be on your right.
Just like in Hanoi, whenever there are luggage lockers, I'm quick to rid myself of the stuff.
On the other hand, a bag does help chope reserve a seat, so you could leave one piece of baggage in the locker at first. Grab your food, then drop off the other. Perhaps tell one of the employees that it's "your table" for the time being.
Although it was a busy lounge — with my presence adding to that crowding — there seemed to have been enough seats at the time (early to mid-afternoon) to not warrant resorting to that scheme.
As for wi-fi, you can either give up your mobile phone number to some kiosk, or look for a woman who randomly hands out lounge wi-fi passwords.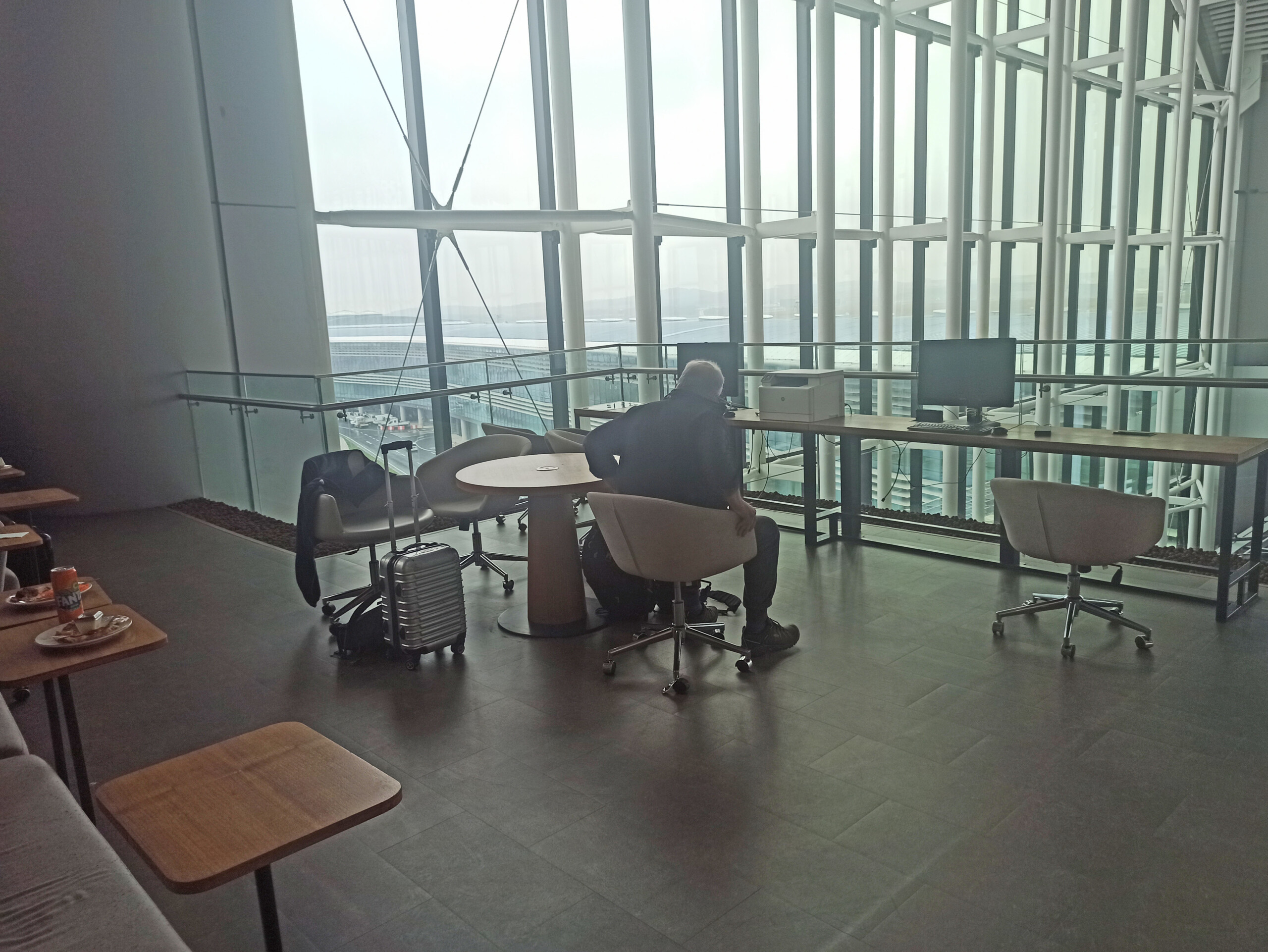 The pool table was back in business.
It was a bustling place, but save for the folks blabbing on speaker phone, it seemed like there was ample enough space to enjoy one's meal/tap away on the computer.
Make ready any device … to charge.
But, as is typical with my reviews of nearly anything, what's the food situation?
Much improved since September 2021, when there only a few small bowls of plastic-covered appetizers and cucumbers.
Food
As you might have predicted, Turkish food reigns supreme.
Customer service is lacking, but that seems status quo from prior experiences at Istanbul's airports. Consistency!
In all, the lounge isn't bad. Plenty of seating, good food (for an airport lounge), luggage storage, and even a functioning pool table.
With the iGA Lounge in mind, let's take a look at a much worse lounge at Istanbul's main airport– its neighbor, the SkyTeam Lounge.
Bonus?: SkyTeam Lounge at Istanbul Airport
As I was flying Saudia in business class, I was able to take a peek at the SkyTeam Lounge.
A peek was all that was needed.
Obviously, the lounge was much smaller than the iGA one. It suffered from that compact size, both in terms of noise levels, and crowding at the food area.
Part of this lounge also overlooks the iGA Lounge, so that's more salt in the wound.
The food looks alright, but I can't say that it tasted as good as the stuff at the iGA Lounge.
Still, at least they had a variety of vegetables, a small amount of meat platters, soup, and dessert.
More food– baklava, eggplant, salad, and lentil soup with lemon.
If you only have access to the SkyTeam Lounge, and want to get a quick bite, sure, go grab a plate; Istanbul Airport stores and restaurants are awfully overpriced, so from that angle, it's worth it. But it doesn't hold a candle to the iGA Lounge, or (unsurprisingly) the Turkish lounges across the way.