I've searched English and Chinese websites for information about Shanghai Pudong's China Eastern VIP Lounge 137, but I'm getting the feeling it's like that fortune-telling machine from the movie "Big." There's a deluge of information about other Shanghai Pudong lounges, all with lucky or lucky-lite numbers (that is, nothing with a four), but 137? No dice.
And I've gotta say, for a Chinese lounge, it's not bad at all.
Location and Check-In
In all honesty, I have no idea how I got to this lounge. From the check-in hall of Terminal 1, I passed security and immigration, then took a train to a satellite building of Terminal 1. After exiting the train and then hopping on an elevator, I saw signage for 5th floor lounges, and took a chance.
Thus, the photo above is the best guide I have, until you actually get to this perspective: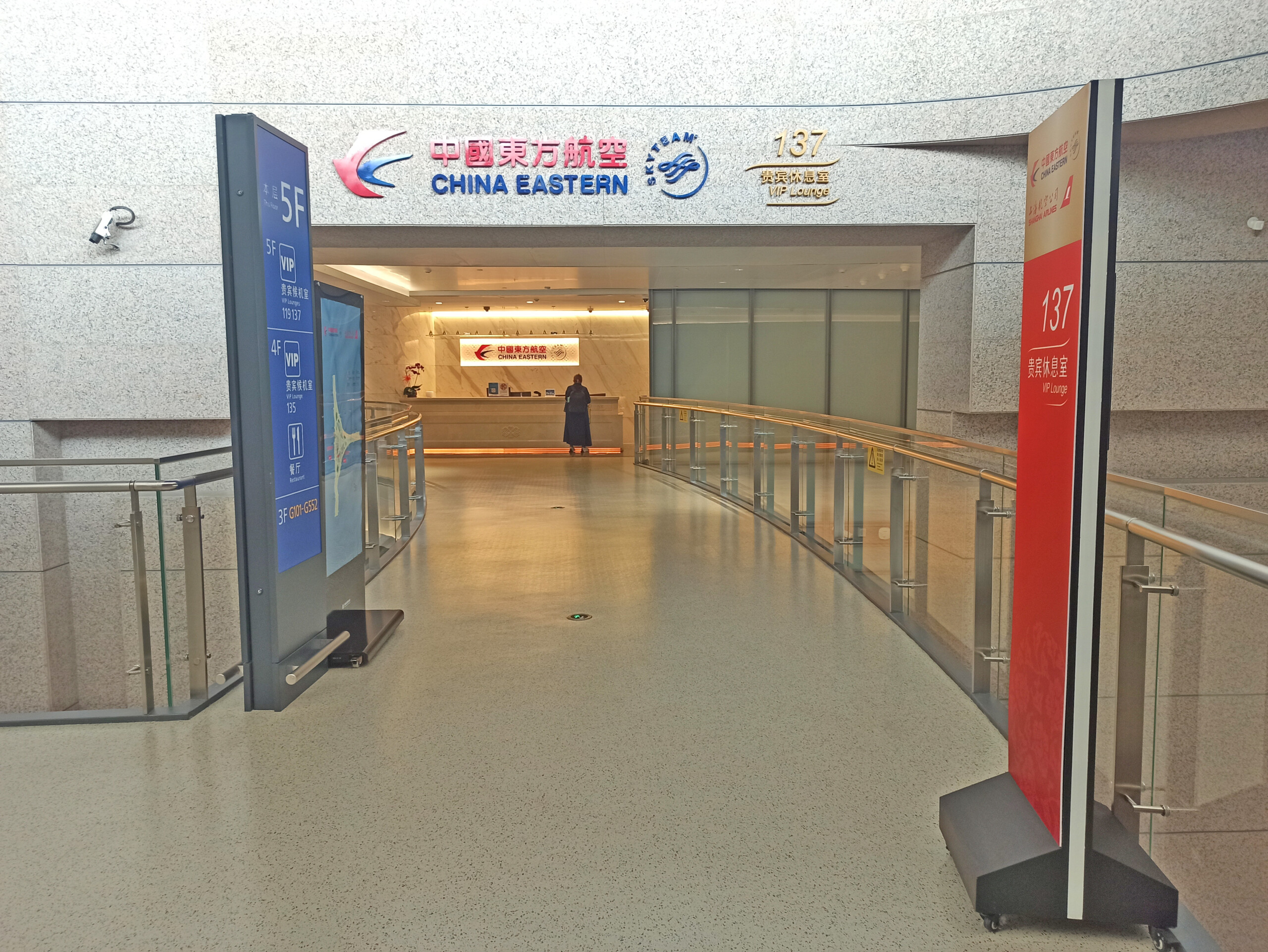 I was able to enter the lounge as I had a SkyTeam flight out that day, and hold ITA Airways SkyTeam Elite Plus status.
Ambience
The satellite terminal was mostly empty, save for folks going to a couple of flights. Consequently, the lounge had just a few other passengers in it. It's likely because international flights to China haven't quite yet recovered from a number of destinations.
Nevertheless, upon first glance, the lounge had a clean, polished look to it, with helpful staff throughout (to be fair, if you don't speak Chinese, they might just send you to the person at the reception desk to help translate. For me, I had a good chat with them).
There was plenty of seating at the time, both by the windows, and off to the side.  Additionally, I saw showers, business rooms, and signs for prayer rooms and meeting rooms.
Wi-fi was easy to connect to — no handing in your passport number or first-born for this password — and it was fast enough, too.
After getting settled, I went for some eats.
Food and Drink
I'm not going to say the main dishes were so appealing, but I did go hogwild with the vegetables, chilies (what a shocker), and coconut buns.
Anyway, it's all personal preferences, right? At least they had drinks that you could take for the flight, which for me is often as important as getting a meal in the lounge.
Conclusion
If I could once again find the China Eastern VIP Lounge 137, I'd certainly go back. There was a good amount of natural light, seating was everywhere, employees tried to help when they could, and the wi-fi worked (naturally, you may want to have a VPN already installed, if you're not accustomed to the local firewall). It may just become another mosh pit once the quantity of international flights rebounds further, but for now, it's good enough.